It's time for the Blisse Kiss After Dark!
Read the rest of the kisses here,
but first check out Cat Class. I love black cats and shifters. This is my homage and the start of a new series featuring black cat shifters. Grin.
Cat Class by Megan Slayer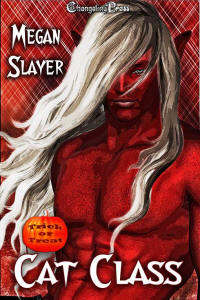 Trick or Treat Collection
Book one in the Stray Cats Series
Changeling Press
Contemporary, Paranormal, Holiday, M/F, Short Story
He's got cat class and cat style, but can he win her heart?
Trust a witch to give away black cats on Halloween.
Hayden knew her cat was different the moment she picked him up from the box at old lady Hildegard's house. But there's a full moon out this Halloween, and Hayden's about to find out just how special her fur baby truly is.
He's got cat class and cat style, but can he win her heart?
Available here:
And now for that kiss:
Joel padded around her, then gripped her upper arms. "It's not just sex. It's me giving myself over to you." He dipped his head, looking her in the eye. "We're a
permanent couple. At least we are for me. You can leave my ass high and dry whenever you want. I'm loyal and I'll stick by you for the rest of my life."
"Oh." Her head swam. Too many thoughts, too much information, and no way to understand it so fast.
Joel coaxed her down the hall to the bedroom. "It's late and I don't want to talk anymore. Let me hold you."
"You are." Hayden shrugged out of his arms. She needed to change, but things were so much more complicated with him in human form. "How do we do this? I don't mind getting naked in front of a cat. They don't talk back. But you? You'll see my flaws. I'm not sure I want you to."
"We take our time and get used to each other." Joel held her hand and led her to the bed. Instead of ripping off her clothes like she expected, he sat on the edge of the mattress. "Come here." He eased her onto his lap and wrapped his arms around her. "I'm going to kiss you, touch you, and prove what we've got between us is real, no matter what I look like."
Hayden tipped her head and captured his bottom lip between hers. She licked and nipped him, enjoying the feeling of his scruffy cheeks against her mouth. The bulge in his jeans rubbed her pussy and sent shivers through her body. For a guy who wasn't supposed to have any skills, he knew his way around her body. She forked her fingers into his hair and pulled.
"Hay, that feels good." He hiked her skirt higher, baring her bottom.
Hayden sucked in her stomach and backed away from him. "Let's turn the light out."
"And miss out on seeing you?" Joel loosened her zipper. He palmed her ass. "You forgot I spent most of my time on your bed watching you. I know what you look like and I'm hooked. I want to see you and feel you."
"Joel." She fisted his shirt in both hands. "This is surreal."
"For me, too." He kissed her again, this time leaving a trail of heat from her lips to her neck, then down to her cleavage. His breath warmed her skin and his light touch eased her fears.
Might as well go for it. She inched off his lap and stood. The skirt slipped past her hips and pooled at her feet. She grasped the hem of her tunic and yanked the silky material up over her head.
"Beautiful," Joel gasped. He threaded his fingers with hers and held her close. From her breasts to her belly, he kissed and licked. The strap of her bra slipped down her shoulder, revealing more of her to him. She fought the urge to push it back into place.
"Leave it," he murmured and moved the other strap out of the way. The cups barely covered her nipples. Joel reached around her and popped the clasp, then moved the pesky lace. "That's what I wanted to see. You."
He cupped her face in both hands. "Teach me what I need to learn. Take the lead and show me everything."