It's Sunday Snog time and I thought I'd showcase a hot scene from
Gifted
. I love this short and hope you do, too. Here, check it out!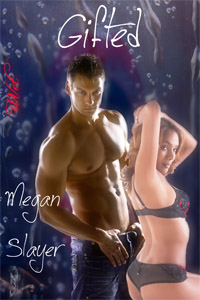 Can change lead to the sexiest session of her life?
Nadia's monthly trips to Master G relax her. She needs the BDSM sessions to escape the stresses of her business career. But playing with Master G means accepting all his requirements, including taking a new Dom. Enter Master S. He's her wettest dream come to life. Maybe change is the one thing she truly needed and oh, so sexy.
Contains scenes of BDSM, spanking, toy play, oral and anal play as well as the use of one wicked set of nipple clamps, but no one's complaining.
And now for that snog!
Nadia settled at his feet. The cushioning on the floor padded her where
she'd landed on her knees. She reached forward, grabbing his zipper with her
teeth. Although she shouldn't, she glanced up at her new master. His hands on
his hips, Master S tilted his head to the side.
"Do you want my cock?" He arched his hips, giving her more access.
She gripped the metal tab in her teeth and tugged. Eventually the zipper
parted and his dick sprang free of the leather constraints. His cock slapped her
on the nose.
"Thank you, Sir. Use me some more?" She squatted down more and
licked the underside of his prick.
"Bad girls don't follow the rules," he said and swatted her cheek with his
cock. "I'll punish you later. Get me nice and wet." He fisted her hair once more
and guided himself into her mouth. "Take it all."
Every nerve ending in her body misfired. She craved his touch and his
domination. The rest of the world did slip away. Nothing mattered but what he
wanted to do to her. Would he use the wax? Clamps? Vibrating ass plug? God,
the possibilities were endless.
She took him deep into her mouth and massaged him with the back of
her throat. Her pussy clenched with need. She longed to feel his cock in her
cunt, stretching her to her limits.
"More, Pet." He grabbed her hair with both hands and set the pace.
"More." He rocked his hips, fucking her face hard. Each time he bumped the
back of her throat, she relaxed to take him deeper. His balls smacked her chin
with each thrust.