I thought I'd spotlight ten lines from one of my favorite stories, Make Me. This one is white hot! A little BDSM, some toys... yeah, hot night! Enjoy!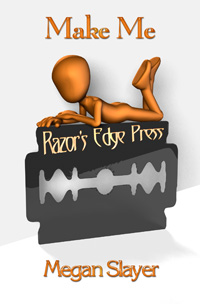 A crop, some rope, a sweet little plug... just what she wants, and all she had to say was make me.
Dixie wanted out of the daily rut and a night to reconnect with her husband. What she got went far beyond her wildest dreams. Who knew a Tuesday night could be so white hot?
Ten lines, here we come!
"What do you want from me?"
He crooked one brow. "I want everything. Turn around."
The cool air in the hallway caressed my nipples as I did as told. I panted.
Whatever he had in mind, I was up for. "You going to make me?"
"Yes, bad girl. Give me your hands."
Zeke grabbed my wrist, not giving me much of a chance to argue. Something cool slipped over it and clicked. Handcuffs? Oh, hell, yes. He placed the other cuff on my left wrist and turned me back around. Heat and lust burned in his eyes. His jaw worked as he appraised me.
With one finger, he drew a line from my throat down between my breasts to my stomach. God, I wanted him to touch my breasts. Tweak my nipples. To do something. The touches, light and tickly, were sheer torture. I shifted my hips. Damn, I still had my panties on.
Changeling Press
Razors Edge Press
AllRomance Ebooks
Amazon
Barnes and Noble