It's Ten Line Tuesday and I thought I'd start where it all started...
Fire Woman
.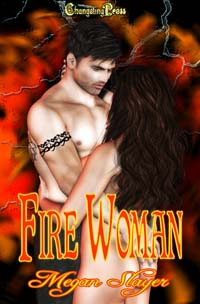 She's everything he needs... if he can withstand the burn.
Atria Moline isn't your average photographer. She controls fire. Sounds fun, being able to scorch whenever you like? Think again. She's lonely and desperate for the touch of the man who can dance in her flame--if she doesn't immolate him first.
Zac "Iceman" Frost controls the stage with his band Glow. He's not about to back down from Atria's challenge. He'd got secrets of his own and his sights set on her.
Contains some hot sex between a fire elemental and a sexy water elemental.
And now for those ten lines!!
"Sweets, I promise. No one is going to hurt you." He rubbed his cheek on the top of her head. "How long have you been awake? You're run ragged."
"I've been up since yesterday afternoon, but thanks for making me feel beautiful." She sagged back against him, indulging in the spicy, male scent of him and the comfort in his embrace. The tiny voice in the back of her mind stopped screaming at her to run. He might not be permanent, but Zac would keep her safe.
"I'll show you around the grounds tomorrow morning, but right now let's go in and crash. The guest room has a great big bed, and it's calling your name." With his arm still around her shoulders, Zac led her toward the house. "And yes, you're always beautiful to me."